Americans spend nearly $1,000 per person on pharmaceuticals each year. According to PBS, this is nearly 40% more than is spent per person in Canada, the next highest spender. To explain the discrepancy, PBS notes that Americans take more drugs than any other county and the high costs of medications, especially new drugs that often debut in the U.S. Notably, many other nations essentially regulate medication costs. We would add another factor contributing to high pharmaceutical costs in the U.S.– health care fraud. In this post, our California pharmaceutical fraud law firm looks at two forms of alleged Medicare/Medicaid fraud. Along with other cases of drugstore health care fraud, these schemes create costs and endanger the health of the American consumer.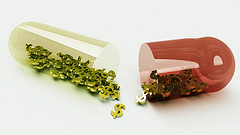 Walgreens 2008: Switching Between Pill Types For Profit
In 2008, Walgreen Co. paid $35 million to settle allegations of prescription drug fraud claims. As detailed in a Department of Justice ("DOJ") press release, the settlement addressed reimbursement requests for three specific prescription drugs that Walgreens filed with the Medicaid systems in 42 states and Puerto Rico. It was similar to previous settlements with CVS Caremark and Omnicare. The Walgreens case was initiated by a pharmacist who was slated to receive nearly $5 million via the federal and state whistleblower statutes. In settling the claims, Walgreens did not admit any liability.
According to the government, Walgreens switched Medicaid patients from one version of the subject medications to another (i.e. from tablets to capsules), moving from a cheaper form to a more expensive version. The alleged acts occurred between June 2001 and 2005 and the charges stated that there was no medical reason for the switch, instead the sole goal was to increase the reimbursement rate and therefore increase profits. Even though tablets and capsules work the same way in the body, they are not considered the same and pharmacists cannot move a patient from one to the other without a doctor's order.
Walgreens 2012: Illegally Enticing New Customers
This was not the chain's only brush with health care fraud. In April 2012, the DOJ announced that Walgreens had paid $7.9 million to the U.S. and certain states to settle a different False Claims Act case. These claims began as two separate whistleblower lawsuits, one brought by an independent pharmacist and the other by a pharmacy technician who had previously worked for Walgreens, under the Act's qui tam provisions. The settlement includes a denial of liability.
According to the suit, Walgreens promoted a program giving people $25 gift cards for transferring a prescription to Walgreens from another pharmacy. Although the ads usually noted that the offer did not apply to participants in Medicare, Medicaid, Tricare, and other government programs, employees frequently ignored this limitation and gave the gift cards to people covered by those programs. Such acts violate laws that prohibit pharmacies from influencing decision-making and luring government program participants to a pharmacy with an inducement like a gift card. The law is intended to ensure patients choose a pharmacist based on legitimate medical needs (ex. continuity). Per Daniel R. Levinson, the Inspector General for the Department of Health and Human Services, "This settlement makes clear that corporations seeking increased profits over their patients' needs will pay a substantial price."
A Partnership Against Pharmacy Fraud
Health care fraud threatens our health and our wallets. Pharmacies should be trusted partners in care. While they need to make money, they must not do so at the expense of public health. One way pharmacy fraud endangers public health is by depleting already limited funds available for the care of those who rely on government health care programs.
Fighting pharmacy fraud, like fighting most forms of health care fraud, requires private whistleblowers willing to step up and speak up when they see a fraudulent scheme. As a San Francisco pharmacy fraud lawyer, Attorney Greg Brod can assist these brave individuals helping to end the fraud while also protecting the interests of the whistleblower and ensuring s/he receives appropriate compensation for the time and effort expended.
See Related Blog Posts:
CVS Insurance Scandal
Focusing on a Form of Pharmaceutical Fraud: Doctor Indicted for Selling Narcotic Prescriptions
(Image by Bill David Brooks)