As Veterans' Day approaches, our firm would like to take a moment to thank the men and women of the armed forces who fight for our freedom and our safety, individuals who risk their lives for the American dream. We owe a debt of gratitude to each of you and to your families. It is in recognition of this debt that the government helps veterans in their post-service careers, including those who open and operate small businesses. We support these efforts and angered when scammers take unfair advantage of these programs, committing what amounts to veteran-owned business fraud. Partnering with whistleblowers as a California-based government contracts fraud law firm allows to show our gratitude and help protect the rights of those who protect us all.
Government Programs for Businesses Owned & Operated by Veterans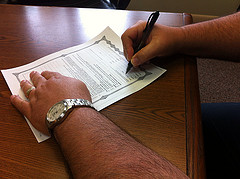 The federal government recognizes the importance of veterans by assisting them in building their own businesses after their service. Last week, the Small Business Association ("SBA") held the first-ever National Veterans Small Business Week to celebrate the nearly one in ten small businesses owned by veterans. The federal government, including the Department of Homeland Security, also sets aside certain contracting opportunities for service-disabled veteran-owned small businesses ("SDVOSB").
Company Pays $1 Million to Settle False Claims Act Allegations
On October 29, 2014, the Department of Justice announced a settlement agreement pursuant to which North Florida Shipyards and Matt Self, its president, will pay $1 million to the United States. The False Claims Act suit alleged that North Florida created a front company, Ind-Mar Services Inc., in order to receive certain Coast Guard contracts set aside for SDVOSBs. In order to qualify, service-disabled veterans must own and manage the company and must also perform a minimum of 51% of the labor. The suit alleged that Ind-Mar was merely a contracting vehicle, used to win five ship repair contracts while North Florida actually performed the work and received the related profits. According to the allegations, Ind-Mar would not have been awarded the contracts had the Coast Guard and SBA known it was merely a front.
North Florida, Ind-Mar, Self and three others were suspended from all government contracting in December 2013. In April 2014, Self and North Florida admitted to creating and operating Ind-Mar in violation of SBA statutes and regulations and contrary to the provisions of their Coast Guard contracts. The $1 million settlement resolves allegations originally brought by Robert Hallstein and Earle Yerger via the False Claims Act's qui tam provisions. Although the government intervened and took over the action, the pair will receive a $180,000 payment pursuant to the Act. The current settlement is not itself an admission of liability beyond those admissions previously made.
Partnering to Fight Fraud
Commenting on the case, the Justice Department emphasized that those who wish to do business with the government must act fairly and honestly. A. Lee Bentley III, a United States Attorney for the Middle District of Florida, added: "Special programs to assist service disabled veterans are an important part of the SBA's business development initiative….False claims such as this undermine the integrity of this vital program and, where found, will be vigorously pursued by our Office." Similar sentiments were voiced by SBA Inspector General Peggy E. Gustafsin who expressed a commitment to ensuring only eligible businesses receive SDVOSB set-asides and called the settlement "a strong message to those driven by greed to fraudulently obtain access to contracting opportunities set-aside for deserving small businesses owned and operated by service disabled veterans."
If you have witnessed a company or individual abusing set-asides for veterans (or other specially-designated groups), coming forward is not only the right choice, it is also the patriotic choice. Attorney Greg Brod can help you investigate and file a whistleblowers' False Claims Act lawsuit in California's state or federal courts. Call to arrange a free consultation.
See Related Blog Posts:
The False Claims Act: From Shoddy Civil War Uniforms to Costly Defense Contracts in 2014
Whistleblowers' Attorney Discusses Guilty Plea in Case Involving Contractor Providing Substandard Parts to Department of Defense
(Image by Dan Moyle)