Health care continues to be a major topic of debate on news shows and in living rooms across the nation. While there may be debate about the root causes and the best solutions, most Americans agree that health care fraud is a significant problem. To be honest, we'd argue that if they didn't agree that this high-cost crime against the government and against every honest user of health services, that they are either personally profiting from fraud or simply not paying attention. As a California health care fraud law firm, we are committed to keeping the public informed about health care fraud, including but not limited to Medicare, Medicaid, and Medi-Cal fraud. We also work with brave whistleblowers to help confront this problem, two related efforts that we believe are critical to bringing an end to fraud, recovering diverted funds, and bringing criminals to justice.
Fiscal Year 2013 and the Federal Government's Health Care Fraud Fight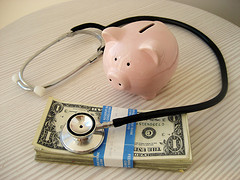 In February 2014, the Department of Health and Human Services and The Department of Justice co-authored an Annual Report on the Health Care Fraud and Abuse Control Program for Fiscal Year 2013. It was the seventeenth year for the collaborative program, created under the Health Insurance Portability and Accountability Act of 1996 and aimed at identifying and prosecuting the most egregious cases of health care fraud, preventing future cases, and protecting the beneficiaries of the healthcare programs.
Overall, in Fiscal Year 2013 (referred to as simply "2013" hereinafter) the Federal government won or negotiated more than $2.6 billion worth of judgments and settlements in health care fraud actions. Together with prior years' efforts, this work led to approximately $4.3 billion being deposited into the Treasury or the Centers for Medicare & Medicaid Services, transferred to agencies administering health care programs, or paid to private individuals during the year 2013. Since the program began in 1997, it has led to more than $25.9 billion being returned to the Medicare Trust Funds alone.
In 2013, the Department of Justice opened a total of 1,013 new criminal investigations and 1,083 new civil investigations involving health care fraud. By year's end, there were a total of 2,041 criminal and 1,079 civil health care fraud matters pending with the Department. Targets ranged widely and included hospitals, medical providers, pharmacies, clinics, and medical equipment suppliers. Cases were referred to the Department of Justice through law enforcement networks and via the filing of qui tam complaints, more commonly referred to as whistleblower actions. Notably, in 2013 there was a total of $324,194,039 paid to private individuals who filed such suits pursuant to the False Claims Act's qui tam provisions.
The Rising Role of Whistleblowers in Fighting Health Care Fraud
Qui tam suits are becoming increasingly critical to the fight against fraud on the government. A December 2013 report from the Justice Department on False Claims Act cases generally (not limited to the health care fraud arena) suggested that the number of whistleblower suits hovered in the three to four hundred per year range in the 2000 to 2009 time frame, but began to climb afterwards to 752 whistleblower suits in 2013. We are proud to be a part of this trend by helping people who witness health care fraud come forward and battle it. Health care fraud is a very real problem; call our San Francisco health care fraud whistleblower's law firm if you are ready to be part of this fight.
See Related Blog Posts:
Whistleblower Lawyer Reports on Convictions in Prescription Fraud Scheme
The Experience of Whistleblowers
(Photo by Flicker user 401(K) 2013)