Medicare and Medicaid fraud are a thriving business. Medicare and Medicaid fraud are also illegal and, in many ways, immoral enterprises that take advantage of programs intended to help the elderly and impoverished. Health care fraud takes many forms. Today, we focuses on one subset – recruiting schemes. In these cases, scammers recruit "patients," obtain their beneficiary numbers, and file false and/or exaggerated claims with Medicare or Medicaid. As with other forms of health care fraud, our Medicare and Medicaid fraud law firm believes that whistleblowers are key to fighting health care recruitment fraud.
Scammers Trade Shoes for Beneficiary Numbers Last week, The New York Times reported on a disturbing case of health care fraud. Nine New York doctors are among the 23 individuals named as defendants in a Medicaid fraud scam that netted nearly $7 million dollars. The indictment includes charges of health care fraud, money laundering, and enterprise corruption.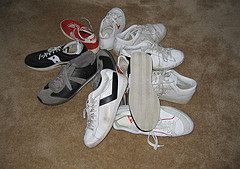 Allegedly, defendants recruited homeless people from soup kitchens and shelters, specifically targeting those with valid Medicaid cards, by promising them free sneakers or other footwear. Recruits would be taken to medical clinics (typically places owned by one of the scammers) where they underwent unnecessary tests and were labeled with fake diagnoses. Scammers would then bill Medicaid to the tune of hundreds or even thousands of dollars per "patient." Often, bills included claims for medical equipment and testing that were either inappropriate or wholly fictitious and for unnecessary follow-up visits. Before leaving, the homeless men and women were allowed to pick a pair of shoes from stacks of footwear in the clinics' basement. In some cases, the recruiters were paid a referral fee per recruit; in other cases, Medicaid payments were split between the recruiter and the doctor.
Per the Times article, health care fraud may be common but the New York case is notable both for the number of participants and the exploitation of the homeless. A Brooklyn District Attorney explained "At the heart of this health care fraud scheme was the exploitation of poor people….This was a Medicaid mill." Most of the defendants are being held on bail ranging from $10,000 to $350,000.
Other Recruiting Scams Recruiting scams are one of the more common forms of Medicare or Medicaid fraud. In October 2014, the FBI released a press release reporting on prison sentences handed down for a recruiter and clinic owner involved in a scam that targeted nursing home and assisted living residents, some of whom were involuntarily committed to the defendant's psychotherapy programs. To conceal their crimes, the defendants not only falsified records but even intercepted patient billing statements mailed to the patients from the Medicare offices.
Another case from 2014, also detailed in an FBI press release, targeted destitute individuals at soup kitchens, housing projects, and similar locations, convincing them to sign blank documents that were used to create fake records and bill Medicare for skilled nursing and physical therapy treatments that were never provided. The patients were promised cash and/or prescription narcotics.
Helping Whistleblowers Bring Scammers to Justice Often, health care fraud scams, including Medicare/Medicaid recruiting scams, are only discovered because a private citizen spoke out and reported the wrong. In the "sneakers scam" above, the investigation dates back to 2012 when a woman walked into the D.A.'s office and reported that she'd been recruited as a "patient." We encourage anyone who has seen fraud to follow this woman's lead.
Reporting fraud is not something you need to do alone. As a Medicare fraud law firm, we help honest people bring scammers to justice. Our team helps people bring fraud claims on the government's behalf while ensuring the individual's own interests are protected and that he or she receives fair compensation if the government recovers money based on the information provided by the whistleblower. We welcome calls from across the nation.
See Related Blog Posts:
Medicaid Fraud: Health Care Fraud Targeting Another Government Program Medical Equipment Fraud and Power Wheelchair Scams
(Image by Paul Cox)