Earlier this month we wrote about the theft of prescription drugs, focusing on the growing problem of medications being stolen from our nation's seniors and why drug theft is a form of elder abuse. We urge all readers to ensure their own medications and those of loved ones are kept in a secure location. These robbery-type crimes are not the only form of prescription theft. As a Northern California Medicare fraud law firm, we are closely watching the issue of Medicare drug thefts crimes that sometimes take advantage of quirky rules and can amount to health care fraud.
Study Identifies Problem of Drugs Dispensed to Deceased Medicare Beneficiaries
In October, the inspector general for the Health and Human Services Department ("HHS") released a report Medicare rule pursuant to which the program covers prescriptions for up to 32 days after the patient's death. The investigators focused on a small sliver of medications and identified 158 patients whose HIV-related drugs were covered after their deaths in 2012. In one patient's case, Medicare records show two separate medication purchases involving three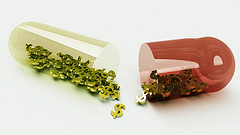 drugs each that were covered after he died – charges that amounted to $7,610. Another case involved a Michigan man for whom six prescriptions from two different doctors were ordered and paid for after his death to the tune of $5,616 in Medicare costs.
Medicare's 32-day rule provides a window for payment that is intended to accommodate some pharmacies' billing cycles. However, and this language simply begs to be quoted directly, "[d]rugs dispensed after death cannot be used for medically indicated purposes." Investigators suggest the problem may extend much wider than just HIV medications and likely runs throughout the Medicare Part D prescription coverage program, meaning a change could lead to significant savings for Medicare and thus for the American people. According to the report, Medicare agreed that the rule needs to be changed saying they are in preliminary talks to cut the window to "the absolute minimum given current industry billing practices and system constraints."
Identifying & Preventing the Problem
A report from political think-tank The Heartland Institute points to two possible ways in which the drug fraud may have been carried out, theories alluded to in the official report. The first theory is that the beneficiaries were the victims of identity theft and suggests the drugs may have been resold on the black market after purchase. The second theory involves a more institutional fraud and suggests that unscrupulous, possibly fake pharmacies were responsible for the bills and that the medications were never actually dispensed.
This month, as noted in a press release from the House Ways and Means Committee, Congressmen Brady (R-TX) and McDermott (D-WA) introduced draft of a bill titled "Protecting the Integrity of Medicare Act of 2014." The bill proposes reforms to the program's anti-fraud programs, including measures aimed at preventing the coverage of prescriptions for deceased beneficiaries. We will follow the progress of this legislation and we favor such efforts aimed at preventing fraud before it happens.
Law Firm Recouping Money Lost to Medicare Fraud with the Help of Private Whistleblowers
We also believe it is important to attempt to recoup money lost to Medicare fraud. In many cases, the federal False Claims Act and its state equivalents is a key tool for recovering these funds. Often the recovery process begins with a brave individual coming forward to report knowledge of Medicare fraud; for example, an employee might report that a pharmacy filed fake claims for prescription medications after a beneficiary's death. The law protects these whistleblowers from retaliation and, when the case results in money being recovered, allows them a share of the recovery in recognition of their role. If you have knowledge of Medicare fraud, our legal team can help you become part of this fight. Call to schedule a consultation.
See Related Blog Posts:
A Victim-Centered Approach to Prescription Theft
The False Claims Act and the Role of Whistleblowers in Stopping Health Care Fraud
(Image by Bill David Brooks)