Choosing a nursing home or other senior care facility is a difficult and emotional decision. There are many factors to consider, many of which can spark intense family debates, including location, price, and available forms of care. There are also more individualized factors like whether the prospective resident has friends at the facility, whether the facility has a religious affiliation, and the input provided by the resident's current doctors. That last item, the advice of medical professionals, can be extremely persuasive and a good doctor will assess numerous factors before voicing an opinion. Kickbacks from nursing homes should never cloud a doctor's professional judgment. While that may sound obvious, payments to doctor for referrals our Northern California Medicare fraud law firm knows illegal kickbacks are more common than most of us would like to think and pose both a financial threat to the Medicare program and a threat to patients' health and well-being.
Whistleblower Alleges Kickbacks Were Key Part of Medicare Fraud by Senior Care Network
According to the Broward Bulldog, the Plaza Health Network has worked to maintain a top-notch reputation since its founding 64 years ago as a home for Jewish seniors and war veterans who could no longer live alone and/or care for themselves. Plaza is now a non-profit with corporate offices in Aventura, Florida, and runs eight care facilities in the Miami region open to seniors of all denominations. The company's reputation may, however, change dramatically if a lawsuit alleging health care fraud is successful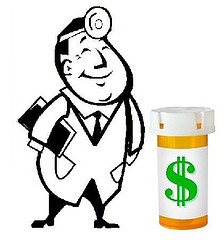 As the paper reported, a former employee turned whistleblower filed suit in a Miami area federal court alleging the company used kickbacks as part of a scam that resulted in $130 million in fraudulent claims. Steven Beaujon served as Plaza's chief financial officer between September 2002 and February 2012. Beaujon alleges that Plaza paid secret (and illegal) kickbacks to as many as 55 doctors in exchange for referring patients to their facilities. The Complaint suggests that Plaza hid the true nature of the payments by creating fake contracts with the doctors, but Beaujon suggests the providers never submitted time sheets or even showed up to worked. A chart submitted to the court shows 11 doctors receiving $2 million between 2008 and 2011.
In addition to the purported kickbacks, Plaza allegedly submitted false claims to both Medicare and Medicaid for various therapy services that were not actually performed and/or charged the agencies an inflated cost for therapy services. Plaza denies all wrongdoing, calling Beaujon a disgruntled employee. As always, in our justice system a defendant is innocent until proven guilty.
The Danger in Health Care Fraud & The Importance of Fighting Back
Federal law prohibits giving payments to medical professionals for referring patients using the Medicare or Medicaid programs. These kickbacks can cloud providers' medical judgment putting both patient health and federal funds at risk. Unnecessary care is not only wasteful but can be hazardous, especially to older individuals who may already be medically vulnerable and may not be able to speak up to protect their own interests. In some cases, fraud may also amount to elder abuse.
Fighting health care fraud requires a partnership between witnesses and legal professionals. Our Medicare fraud law firm understands the laws. We also have the skills and experience critical to investigating and substantiating a claim. It is, however, often an employee or former employee who blows the whistle and alerts our team to frauds committed by their employer. These individuals are crucial to the fight, a fact the law recognizes by providing both protection from retaliation and, when the government recovers wrongfully diverted funds, monetary compensation.
If you are aware of kickback schemes or other forms of health care fraud, please call our office. We can help you do the right thing and together we can combat these dangerous crimes.
See Related Blog Posts:
Blood Test Company Accused of Paying Kickbacks to Referring Doctors
Why We Fight: A Reminder of the Dangers Behind Fraudulent Referrals in the Health Care Arena