In many ways, government procurement contracts are similar to procurement agreements in the private sphere.  The basic elements of all contracts are the same, an offer and acceptance made between two or more competent parties for a legal purpose that creates obligations for both parties (e.g. payment for and the provision of goods/services).  However, the government contract system is much more controlled than the private contracting sphere.  The government contract bidding process is complex, highly-regulated process that relies upon companies filing honest, competitive offers to fill a given need.  Bid rigging is a violation of government trust and a form of government contract fraud.  As a bid rigging whistleblowers' law firm, the Brod Law Firm partners with individuals who see this fraud happen and step forward to report it.  When fraud occurs in the private sphere, the companies involved can suffer.  When fraud occurs in the government contracting arena, the trust of every American is violated and every taxpayer suffers.
Bid Rigging: Overview and Forms
A useful explanation of bid rigging can be found in a Department of Justice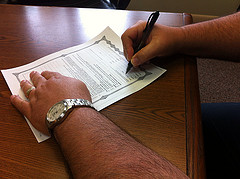 ("DOJ") primer written to help people identify various forms of collusion among prospective government contractors.  As the primer explains, at a broad level, bid rigging involves competitors conspiring to raise the price of goods/services being purchased by the government.  Bid rigging occurs when competitors agree who will submit the best offer during the bidding process, agreements that eliminate/limit true competition.  In some cases, the collusion involves some, not all, of the bidders for a given project.  Although the primer focuses on antitrust matters, bid rigging can also be a violation of the False Claims Act.