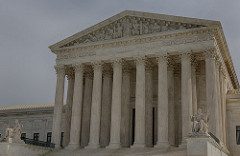 The False Claims Act ("FCA" or "the Act") is a powerful tool that allows private citizens to play a key role in fighting fraud on the federal government.  As we have reported in previous blog posts, this term the Supreme Court agreed to look at a disagreement among appellate courts regarding the issue known as implied certification.  Our whistleblowers' law firm is pleased to report that the Court recently released a decision that affirms and strengthens the Act, ensuring it is available to fight a wide range of fraudulent acts.
Background: The Implied Certification Theory and the Escobar Case
As explained in The False Claims Act: A Primer, a guide released by the Department of Justice ("DOJ"), a person violates the FCA when they knowingly submit a false claim for payment to the government, knowingly cause another to submit a false claim, or knowingly create a false record/statement in order to induce the government to pay a false claim.  The Act was originally passed during the Civil War.  It underwent substantial revisions in the 1980s and again in 2009 and 2010.