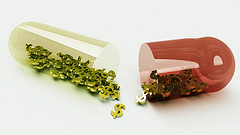 As consumers of health services, we rely on medical professionals to help us protect our own health and the health of others.  The vast majority of medical professionals are dedicated to providing the best care possible.  Sadly, however, there are some people who abuse the public's trust, often risking the health and welfare of others for personal gain.  Today's post will focus on pharmacies and pharmacy fraud, a category that includes pill restocking schemes.  These schemes may include Medicare fraud, Medicaid fraud, and/or fraud on private insurance providers.  People who become aware of such schemes, including patients, pharmacy employees, and other medical professionals, can help fight back.  As a pharmacy fraud law firm, we work with concerned citizens to stop these crimes and protect the health of innocent Americans.
Restitution Order in Alleged Pill Restocking Case
Last week, according to WZZM13, a federal judge handed down an order for restitution in a case that has already let to more than a dozen arrests.  WZZM reports that, according to this ruling, the drug restocking scheme cost Medicare over $64 million and cost Medicaid $18.2 million with an additional $4.7 million lost by Blue Cross Blue Shield of Michigan.  The ruling decrees that the CEO and six others must collectively pay $8.8 million, 10% of the total amount lost by public and private insurers due to the fraud.