Few things are more important that health.  We all worry about it, especially when we think about our senior years.  In addition to worrying about our physical and mental well-being, many of us are plagued by questions like "Will I be able to afford the health care that I need?"  Medicare and Medicaid exist to ease these concerns, but they are struggling.  As an experienced health care fraud law firm, we know that fraud is a big part of the problem.  Nursing home fraud and other forms of Medicare/Medicaid fraud deplete already limited resources and impede the quality of care as (so-called) professionals place profit over people's health.  Scammers target lucrative arenas so it is no surprise that our firm is seeing repeated cases of Medicaid and Medicare fraud involving nursing home pharmacy providers.
Tentative Settlement in Case Alleging Pharmacy Accepted Kickbacks in Exchange for Promoting Drug
According to Modern Healthcare, Omnicare, the country's largest provider of pharmacy services for long-term care facilities, reached a tentative agreement with the federal government to settle accusations it accepted millions of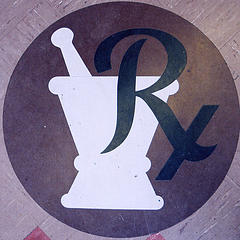 dollars in illegal kickbacks from Abbott Laboratories.  According to the government, Abbott paid kickbacks in exchange for Omnicare promoting the drug Depakote as treatment for behavioral disturbances in dementia patients.  The FDA has not approved Depakote for that purpose.  Nonetheless, Omnicare purportedly promoted the off-label use and had its pharmacists review patient charts and recommend the drug to doctors.  In return, Abbott allegedly paid kickbacks in a range of different disguises from "educational funding" and grants to tickets to sporting events and money used to fund corporate meetings.
On July 2, preliminary settlement papers were filed with the court.  The amount of the settlement was not immediately disclosed and the agreement must be approved by federal and state officials.  It is not clear if Omnicare will admit to or deny wrongdoing.
Déjà Vu: July 2014 Settlement in Case Alleging Payments to Induce Facilities to Use Pharmacy Services
Just one year ago, the Department of Justice announced the settlement of another kickback-related fraud suit against Omnicare.  While the current case involves allegations Omnicare received kickbacks, the suit settled in July 2014 put them on the other side of the equation.  There, the government alleged that Omnicare provided improper discounts to skilled nursing facilities in return for the facilities selecting Omnicare to provide pharmaceuticals to Medicare and Medicaid patients.  Although the company did not admit to any wrongdoing, Omnicare paid $124.24 million to settle the case.
The Danger & How We Fight Back
Why are the alleged payments in the two cases problematic?  Kickbacks and other financial incentives can subvert the independent judgment of medical professionals.  The government claims the Abbott payments polluted the independent judgment of pharmacists and subverted their ability to ensure compliance with federal regulations, essentially turning them into Abbott salespeople.  Officials also suggest that nursing homes should choose providers based on quality and cost, not improper payments such as those alleged in the case settled last year.  Stuart Delery, Assistant Attorney General for the Department of Justice's Civil Division, explains: "Schemes such as [these] undermine the health care system and take advantage of elderly nursing home residents."
How do we fight these wrongs?  Honesty, the government needs help.  If you have knowledge regarding fraud involving long-term care pharmacy services or other forms of Medicare/Medicaid fraud, please step forward.  Your information can help the government recoup diverted funds and protect the health of all Americans.  Whistleblower-led civil suits return money to government health care programs, allowing it to be spent on worthy needs.  These suits punish wrongdoers and remind others to think twice before allowing profits to cloud medical judgment.  Call our health care fraud whistleblowers' attorney to learn more.  The law protects whistleblowers from retaliation and you may be entitled to a substantial reward if your information leads to a recovery of government funds.
See Related Blog Posts:
Pharmaceutical Fraud: Kick-backs Limit Patient Choice
Pharmacies Engaging in Health Care Fraud
Illegal Kickbacks in Senior Care Arena: A Crime Threatening Patients' Health and a Nation's Wallets
(Image by Kai Schreiber)