This week, CNN reported on rampant abuse in the federally-funded programs that help provide job opportunities for the severely disabled.  Sadly, the current investigations are just the latest chapter in a series of problems with fraud and abuse in this area.  If the allegations are true, this is yet another example of scammers taking taxpayer money and using it to line their own pockets rather than to support the noble cause for which it was marked.  Fraud in AbilityOne and other government programs is a serious issue and our government contract fraud law firm works with honest whistleblowers to root out these frauds and return funds to these important initiatives.
DoJ Joins Other Agencies Investigating Work Program for the Disabled
CNN reported last week that the Department of Justice ("DoJ") has joined several other government offices investigating allegations of fraud involving AbilityOne, the leading federally-funded program helping the blind and severely disabled find work, and SourceAmerica, the nonprofit agency that manages the program.  AbilityOne uses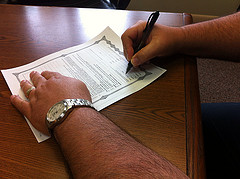 some $3 billion of taxpayer money annually to fund contracts nationwide.  In order to hold an AbilityOne contract, blind and/or seriously disabled individuals unable to hold another job must perform 75% or more of the company's work.