We can tell you that the False Claims Act is a powerful tool for fighting the growing epidemic of health care fraud in the United States.  We prefer, however, to show you by citing some of the biggest verdicts and settlements in the field.  This week, we highlight a settlement involving allegations of Medicaid fraud in the pharmaceutical industry.  As a Medicare and Medicaid fraud whistleblowers' law firm, we help honest witnesses bring lawsuits in cases like this one to fight back against pharmaceutical company fraud and other cases of fraud against government health care programs.
Drug Company to Pay $784.6 Million to Settle Claims It Failed to Report Accurate Pricing Data and Underpaid Medicaid Drug Rebates
On April 27, the Department of Justice ("DOJ") issued a press release announcing that Wyeth and Pfizer (Pfizer acquired Wyeth after the alleged conduct ended; defendants referred to collectively as "Wyeth") have agreed to pay $784.6 million to settle a False Claims Act suit alleging Wyeth committed Medicaid fraud by reporting false prices on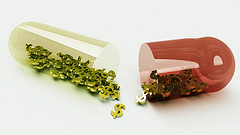 two of its medications.  The complaint alleged that Wyeth gave thousands of hospitals deep discounts on two protein pump inhibitor drugs but failed to report these lower prices to the government.  Allegedly, Wyeth used a bundled sales agreement to induce hospitals to purchase two of its drugs and place them on hospital formularies.  The government believes Wyeth sought to control the hospital market in part because patients often stay on the drugs for a long time after discharge and payers, including Medicaid, would then end up paying nearly full price for the medications.