As a small law firm, we are particularly aware of the many contributions that small businesses and small business owners make to our economy.  In our case, we believe being a small firm allows us to have a more personal touch and collaborate more closely with every client while providing top-notch legal services.  There are also unique challenges to running a small business.  One way that the government recognizes these important contributions and special challenges is by requiring that a certain percentage of federal contracts be awarded to small businesses.  Sadly, some companies attempt to lie to the government and the American people by holding themselves out as small businesses when they truly do not qualify as such.  This a form of fraud.  Our government contract fraud lawyer is dedicated to partnering with honest individuals to protect the integrity of small business set-aside programs and ferret out other forms of fraud on the federal government.
Construction Company Pays $5.4 Million to Settle Government Contract Fraud Allegations
Earlier this month, the Times of San Diego reported that a California-based construction company paid $5.4 million to settle allegations of fraudulent billing for work performed at Camp Pendleton and other military bases.  Harper Construction is a privately held company that earns a substantial share of its revenue through government contracts.  As ind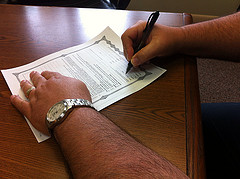 icated in the report, Harper had contracts to construct facilities at the military bases and these contracts specifically required that Harper subcontract a specified portion of the work to small disadvantaged businesses.  These requirements stem from government programs intended to ensure that such businesses receive a fair share of federal contract dollars.  According to the article, Harper stood accused of knowingly using sham companies and falsely certifying that it complied with the small business subcontracting requirements.  Instead of having legitimate small businesses perform the work, the lawsuit alleged that Harper actually passed the work to a large affiliate.