It's no secret that as a government fraud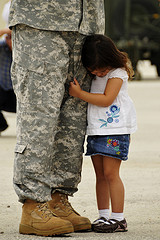 whistleblowers' law firm, we are big fans of the False Claims Act ("FCA").  The FCA is a valuable tool that gives ordinary citizens the power to help fight back against frauds perpetrated on the federal government. While we often write about health care fraud matters, one of the most important things to know about the FCA is that it can apply to frauds involving a wide-range of subject matters.  In these complex times, the FCA's power is especially critical for fighting instances of defense contractor fraud.
Government Files Suit Alleging Defense Contractor Committed Fraud in Conjunction with Contract to Train Iraqi Civilian Police Forces
Last week, the Department of Justice ("DOJ") issued a press release announcing that it had filed suit against DynCorp International Inc. ("DynCorp"), a government contractor headquartered in Northern Virginia, for allegedly submitting inflated claims for payment pursuant to a State Department contract.  In 2004, the State Department awarded DynCorp a contract to train civilian police forces in Iraq and provide other services related to that effort.  The government alleges that DynCorp knowingly permitted one of its main subcontractors to charge "excessive and unsubstantiated rates" for lodging, security, driving, and other services and that DynCorp included those charges in the claims for payment it submitted to the State Department.  Additionally, the DOJ alleges that DynCorp added a markup to these already excessive charges that further inflated the amount charged.
Explaining the reason for the lawsuit, U.S. Attorney Channing D. Phillips of the District of Columbia stated: "The United States relies on its contractors to be forthcoming with accurate information and to act responsibly in return for receiving the taxpayers' money."  Principal Deputy Assistant Attorney General Benjamin C. Mizer, head of the Justice Department's Civil Division, further emphasized that a contractor that violates the obligation to act fairly and openly in conjunction with defense contracts is committing a "shameful abuse of…responsibility" and taking advantage of all U.S. taxpayers during a time of armed conflict.  It is important to note that the claims in the lawsuit are allegations only and have not yet been proven in a court of law nor have they been admitted to by the defendant.
The Importance of Whistleblowers in Fighting Defense Contract Fraud
While the suit against DynCorp has been spearheaded by the DOJ, whistleblowers are responsible for many of the successful FCA actions alleging defense contractor fraud.  In March, a DOJ press release announced that ArmorSource would pay $3 million to settle an FCA lawsuit alleging that combat helmets provided by the company failed to meet contractual requirements.  That suit was initiated by two former employees of an AmrorSource subcontractor.  Last November, the DOJ announced that NetCracker Technology Corp. and Computer Sciences Corp. would pay a combined total of more than $12 million to settle allegations they improperly used individuals who did not have security clearance to perform certain information technology services pursuant to a defense contract.  That case was initially brought by a former employee of NetCracker.  Cases involving allegedly inflated labor charges for aircraft maintenance (DOJ press release, 10/14/15)  and a series of claims involving a contract to provide food and water to U.S. troops in Afghanistan that was settled for a total of $434 million (DOJ press release, 12/8/14) were also initiated by private whistleblowers.  (Note: In all but the last of these cases, the defendants did not admit liability or wrongdoing.)
Our Whistleblowers' Law Firm
The FCA includes a provision allowing private individuals to file suit on behalf of the government because the government recognizes that it cannot police fraud on its own.  If you have witnessed fraud involving a government contract, please call our defense contract fraud law firm at (800) 427-7020.  We can help you do the right thing.  While we find that it is honesty that motivates most whistleblowers, you may be entitled to a substantial reward if your case leads to a recovery of government funds.

See Related Blog Posts:
The False Claims Act: What it Does and How Private Whistleblowers Can Use It
As the Holidays Approach, Defense Contractor Settles Suit Alleging It Overcharged for Produce
(Soldier image by the California National Guard; Gavel image by Bruce Bortin)